The goal of our project is to show that death is necessary to produce life.  Our idea changed many times throughout its creation. We originally intended to surround a flower with compostable materials to showcase decay giving way to life.  As we researched the nature of composting, we realized this was not the most realistic approach.  Instead, we opted to arrange stones in the outline of a human body and grow beans inside of the shape. The result was a public piece of bio art that represents deep ecology, and challenges our culture's relationship to life and death.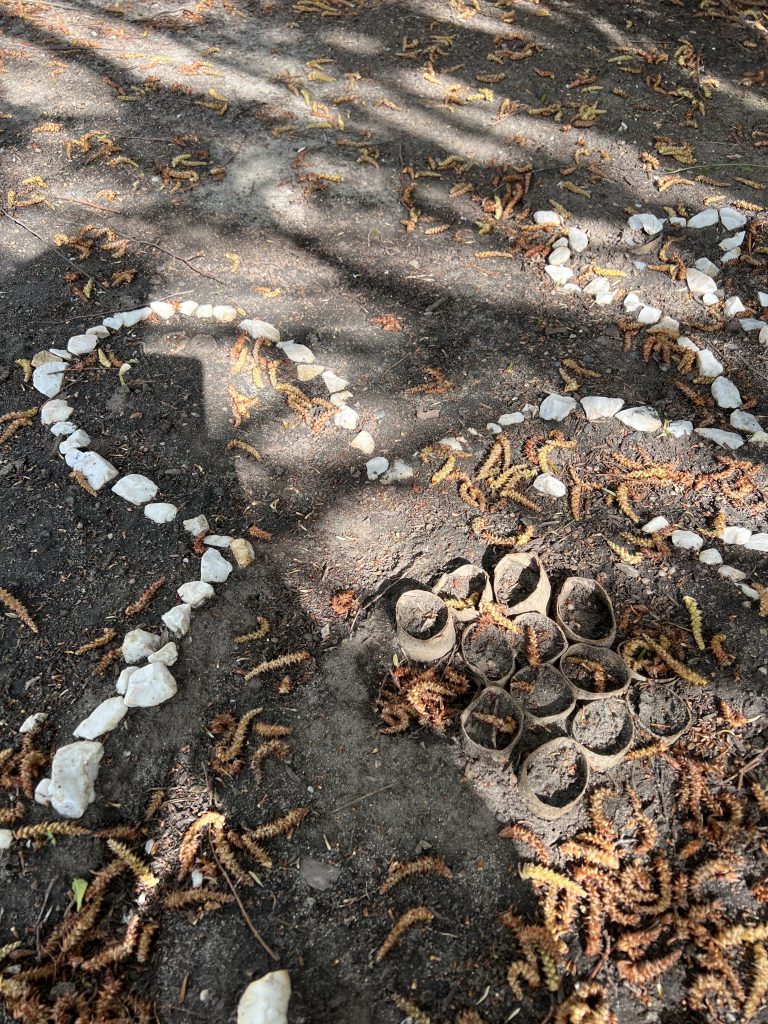 Issues, Approaches, Strategy, Genre
This work is a public piece of bio art.
We focused on the issues of "waste," and "systems." Waste because of the materials used to fertilize the beans, and systems because we are showcasing the relationship between decay and life.
We took the approach of deep ecology, because we are challenging our culture's relationship to the ideas of life and death.
For strategy, we decided to celebrate the life that comes from death.
Relevant Artwork
Infinity Burial Project – Jae Rhim Lee
Examines modern funerary practices & embraces natural decomposition of the body
Uses fungi infused thread to remove toxins from within the body and soil around it, speed up decomposition, & return nutrients quicker
Reinforces natural cycle of life
Throughout our research, we learned some fun facts regarding repurposing waste:
THE AVERAGE PERSON GENERATES 4.5 POUNDS OF TRASH PER DAY, OR 1.5 TONS OF SOLID WASTE PER YEAR.
Composting can take as little as 10 minutes a week, on average.
Composting can reduce outdoor water expenses by up to 30%


Food for thought: If the 21.5 million annual tons of food waste were composted, it could reduce greenhouse gas emissions equivalent to taking over 2 million cars off the road.